TRATON GROUP

In 2019, the TRATON GROUP consistently pursued its goal of becoming a global champion of the commercial vehicle industry. In addition to the IPO, sales successes and strategic partnerships contributed to this.
BUSINESS DEVELOPMENT
With its MAN, Scania, Volkswagen Caminhões e Ônibus and RIO brands, TRATON SE aims to become a global champion of the commercial vehicle industry and drive the transformation of the logistics sector. Its mission is to reinvent transport for future generations: "Transforming Transportation".
2019 was a year that set the direction of travel at the TRATON GROUP. The change in legal form in January from a German stock corporation (AG) to a European Company (Societas Europaea, SE) reinforced the Group's international identity. The company now operates under the name TRATON SE.
The reporting year 2019, especially the first half of the year, was dominated by the company's IPO. It is increasing the company's financial flexibility and opening up direct access to the capital markets. June 28, 2019 marked the first day of trading for TRATON shares and was an important milestone in its corporate history. The successful dual listing on the Frankfurt Stock Exchange in Germany and Nasdaq Stockholm in Sweden underscores the TRATON GROUP's international orientation.
At the Innovation Day in Södertälje, Sweden, in October, the TRATON GROUP presented itself as a forward-looking company and announced investments in e-mobility and digitalization.
As part of the strategic partnership with the Japanese company Hino Motors, Ltd., a procurement joint venture was created in October under the name HINO & TRATON Global Procurement GmbH. Cooperation on mining vehicles for the Canadian market was agreed between Navistar and Scania under the umbrella of the TRATON alliance with Navistar. In 2020, Scania will deliver heavy-duty trucks for initial tests by selected operators.
The TRATON GROUP takes sustainability and environmental awareness very seriously. In the first half of 2019, to fulfill the Paris Climate Agreement, the institutions of the European Union set the first CO2 emission standards for heavy trucks weighing over 16 tonnes. Heavy vehicle manufacturers must reduce the CO2 emissions of their new vehicle fleet in the EU by 15% by 2025. By 2030, the new rules call for a reduction of 30%. The reference period for all reduction targets runs from July 1, 2019 to June 30, 2020. The TRATON GROUP is fully committed to further reducing the greenhouse gas emissions caused by commercial vehicles.
First day of trading for TRATON shares
PRODUCTION

Units

2019

2018

Trucks

201,115

207,235

Buses

21,387

23,141

Light Commercial Vehicles

15,903

9,043

238,405

239,419
DELIVERIES

Units

2019

2018

Trucks

205,936

202,494

Buses

21,496

22,629

Light Commercial Vehicles

14,789

7,871

242,221

232,994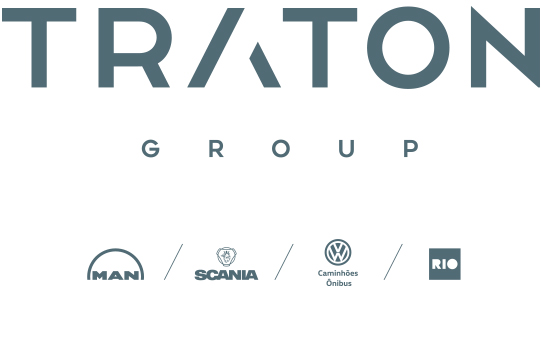 DELIVERIES BY MARKET
in percent