Letter to our Shareholders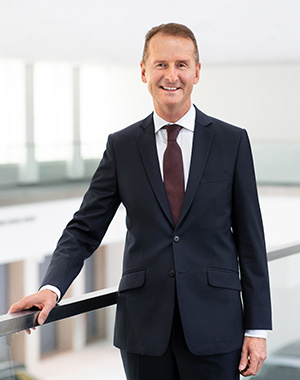 The financial markets are a leading indicator of the far-reaching social and technological upheaval of our times. Sustainability and climate protection are rapidly gaining significance for investors around the world. At the same time, large technology companies are outstripping traditional industrial groups in terms of market capitalization, with valuations focusing on a company's potential rather than its asset base.
Volkswagen is the wisest choice for all those investors who consciously embrace a combination of the two: potential and assets. We have the resources of a strong industrial group and are making good use of these in our efforts to become a technology leader.
Making our core product – the car – the most important internet device of the future is our big opportunity. In a data-based economy, the car has considerable potential to create value. A modern Volkswagen model already boasts ten times more software than a smartphone. In just a few years, this will increase to a factor of 20 to 30. The fully connected car of the future will receive data for a growing number of new digital user applications. At the same time, it will transmit very valuable data about traffic density, air quality, hazardous situations and much more. This will open up new lines of business, which we intend to develop for ourselves.
We are the first automaker to establish a separate Board of Management position for software and to combine all of the Group's digital expertise in a single unit, the Car.Software organization, which started operating in 2019. The new organization brings together some 3,000 IT experts from the Group's interests and subsidiaries, and this number is expected to rise to more than 10,000 digital experts by 2025. They are developing "vw.os", a uniform proprietary operating system that will be installed in all Group vehicles in the future.
Volkswagen is also the first car manufacturer to commit to the targets of the Paris Agreement on climate change. By 2025 we aim to reduce CO2 emissions in our fleet by 30 percent. We intend to become climate neutral by 2050, which is why we are working flat out to drive the evolution of the automobile toward electric mobility. Electric driving is the only viable alternative to combustion engines, large numbers of which can be produced at reasonable cost. Electric cars offer more utility for customers along with lower running costs and greater driving pleasure. Volkswagen has developed a proprietary platform exclusively for electric driving – the Modular Electric Drive Toolkit (MEB). The Volkswagen brand will bring out its first MEB models (the ID.3 and ID.4) in 2020 as part of its electric campaign. Last year, the Group brands Porsche and Audi successfully demonstrated with the Taycan and the e-tron that electric mobility is able to excite customers in the premium segment too. Experience gained in markets such as the Netherlands and Norway shows that when the infrastructure and the control system are right, customers will switch to electric cars. There can be no doubt that e-mobility will catch on. The question is when and where it will take off first.
Making our core product – the car – the most important internet device of the future is our big opportunity.
That the car has a bright future ahead of it is just as certain. Cars still fulfill the desire for individual mobility better than any other means of transport. For millions of people, especially in emerging societies, their first car represents a longed for promise of freedom and a symbol of prosperity. Last but not least, cars are losing their negative qualities: they are becoming cleaner, safer, quieter and fully connected.
This is precisely what the Volkswagen Group and its brands work on every day. For this we are mobilizing massive financial resources. In the next five years alone, €60 billion will be invested in topics of future relevance, €33 billion of which has been earmarked for e-mobility and over €14 billion for digitalization.
What is special about Volkswagen is that we have the strength to finance the green and digital transformation from our own resources. We will safeguard the investments in our new technologies through our successful business with our existing technologies. We will maintain this high level especially in the transformation phase. Customers can choose from highly efficient combustion engines, hybrids and completely battery-electric drives. From the ŠKODA Kamiq to the Bentley Bentayga Hybrid, we have attractive and fascinating new models across all segments that impress customers worldwide. Another special highlight for us last year was the launch of the eighth generation of the Volkswagen Golf.
2019 was an extremely successful year for our Group. Despite considerable economic uncertainty, our brands performed exceedingly well around the world. In China, we lifted our market share in a declining market. In South America, we returned to profitability for the first time in many years. Business in Russia is also profitable and continues to pick up speed. And in North America we significantly improved our earnings.
A strategic milestone in 2019 was the IPO of TRATON. With this move, Volkswagen demonstrated that we are in a position to systematically review our portfolio and take decisive action. This includes divesting ourselves of sections of our company to focus more squarely on our core automotive business.
We are also improving the quality of our business. Sales Revenue and profit grew faster than unit sales. Sales Revenue rose to €252.6 billion. Operating profit climbed to €17.0 billion, and before special items to €19.3 billion. At 7.6%, the operating return on sales before special items was slightly above the forecast range. Net cash flow was significantly higher than in 2018 at €10.8 billion. We intend to maintain this course of qualitative growth, which is why we are aligning our business even more closely with our financial core performance indicators.
2019 would not have been so successful without the huge commitment of our 670,000 employees, whom I would like to thank very warmly. This success would also not have been possible without you, our shareholders. Of course you will also benefit from this success. The Board of Management and Supervisory Board are therefore proposing a significant increase in the dividend to €6.50 per ordinary share and €6.56 per preferred share.
In 2020, the main priority will be complying with the new CO2 fleet limits in the European Union while maintaining the same level of profitability. We will leverage the synergies within the Group much more consistently. By further optimizing our overall brand strategy, we will ensure that the Group as a whole can exploit the profit potential of the market even more efficiently. Further productivity gains are also needed. Cost-cutting programs are underway in all brands. There is considerable potential at the German sites in particular.
There is much to be done. Our industry is changing radically, with us in the driving seat. Volkswagen is on course to become a climate-neutral technology group. I look forward to your continued support on this journey.
Sincerely,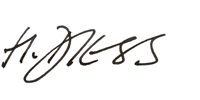 Herbert Diess